Kim's Story: I came to Grace and Strength six weeks after having our fourth child. I knew that this was our last child and I did not want to carry around the extra weight from pregnancy for another year, two or more. My sister had recently joined the program and she was having a lot of success. I had always been active, but sticking to a healthy food plan was a struggle.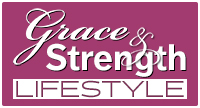 ---
Ready to Start Your Journey?
Are you ready to show YOURSELF some LOVE? Making your well being a priority is not about being selfish. This is about putting yourself first so that you can love and serve others well. We want to see you find wholeness, health, and freedom in every area of your life! We want you to love yourself!
If you are hesitating over a choice of a suitable program, check out how it works.
Learn More!